A Foodie's Paradise in Monteverde
Savor the Flavors of Monteverde at Our Restaurant and Nearby Eateries
---
Nestled in Monteverde's charming Cerro Plano district, Hotel Heliconia offers easy access to a vibrant culinary scene. In addition to our Heliconia Restaurant, we invite you to explore the array of delightful restaurants steps away. From local eateries serving authentic Costa Rican cuisine to international establishments offering global flavors, there is something to satisfy every palate. Indulge in fresh, flavorful dishes crafted with locally sourced ingredients, accompanied by a selection of fine wines and artisanal cocktails.
Guests of Hotel Heliconia will start each day with a sumptuous free breakfast included in the room rate.
Heliconia Restaurant
Our Heliconia Restaurant is a delight for the senses, a place where the love of great cuisine and the beauty of Costa Rica come together. With every dish served, our talented chef and culinary team stay faithful to their vision for locally sourced, environmentally friendly, and health-conscious cuisine.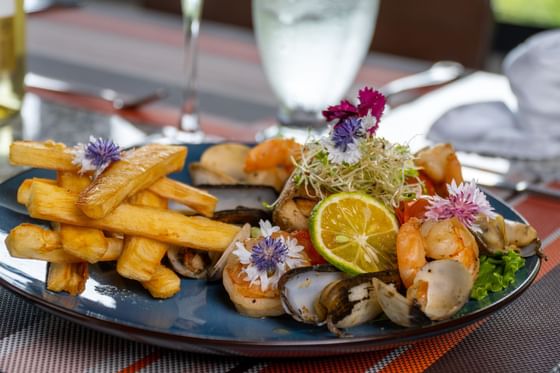 Cuisine
Tempting creations are infused with innovative flair, local flavors, and the freshest regional ingredients and produce like hearts of palm, plantains, and passionfruit.
Cocktails
Not to be outdone, our skilled mixologists craft tantalizing cocktails with exotic names like the Tropical Kiss, whose flavors and colors are the perfect accompaniment to the stunning citrus-orange sunsets over Playa Hermosa.