Your Gateway to Monteverde's Wonders
Explore the Breathtaking Beauty and Culture of Monteverde and Santa Elena
---
Hotel Heliconia serves as an enchanting haven, providing an idyllic base for discovering the natural wonders of Monteverde and Santa Elena, Costa Rica. Step beyond our lodge to immerse yourself in the authentic "Tico" mountain culture, wander through quaint town streets, and engage with the warm-hearted locals. Arrange exhilarating tours to explore an abundance of attractions, including Selvatura Park and the legendary Monteverde Cloud Forest Biological Preserve, where misty trails unveil a mesmerizing world of diverse flora and fauna.
For adrenaline enthusiasts, embark on thrilling zip line adventures and canopy tours, soaring above the lush treetops and relishing in panoramic vistas. Experience a scenic hike to the majestic Arenal Volcano, marveling at its awe-inspiring eruptions, and rejuvenate in nearby hot springs. Encounter captivating wildlife at the Santa Elena Cloud Forest Reserve (La Reserva Bosque Nuboso Santa Elena), home to elusive species like the resplendent quetzal and playful howler monkeys. Delve into the art of coffee production with a visit to a local plantation, witnessing the journey from bean harvesting to savoring a freshly brewed cup.
Heliconia Hotel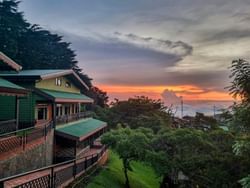 Welcome to the enchanting Hotel Heliconia, nestled within a breathtaking six-acre property embraced by the verdant, tropical rainforest of Monteverde, Costa Rica.
Tour Monteverde
Immerse yourself in the vibrant town of Monteverde, where charming shops offer handcrafted souvenirs, and delightful local cuisine awaits at quaint cafes and restaurants. Let the wonders of Monteverde unfold as you embark on a memorable adventure, filled with breathtaking landscapes and rich cultural experiences.